Welcome to our Gallery of Past Retreats
held at

Gaia Retreat Center, Ubud, Bali
Ubud,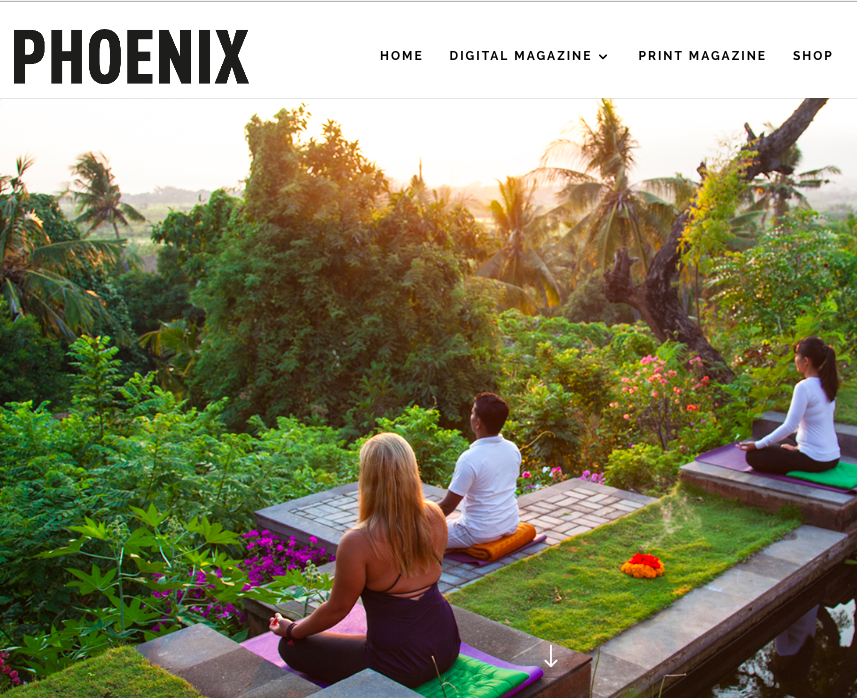 We are honored to have been selected by
Phoenix Magazine as one of the top 5 eco hideaways in Bali!
Click <here> to read more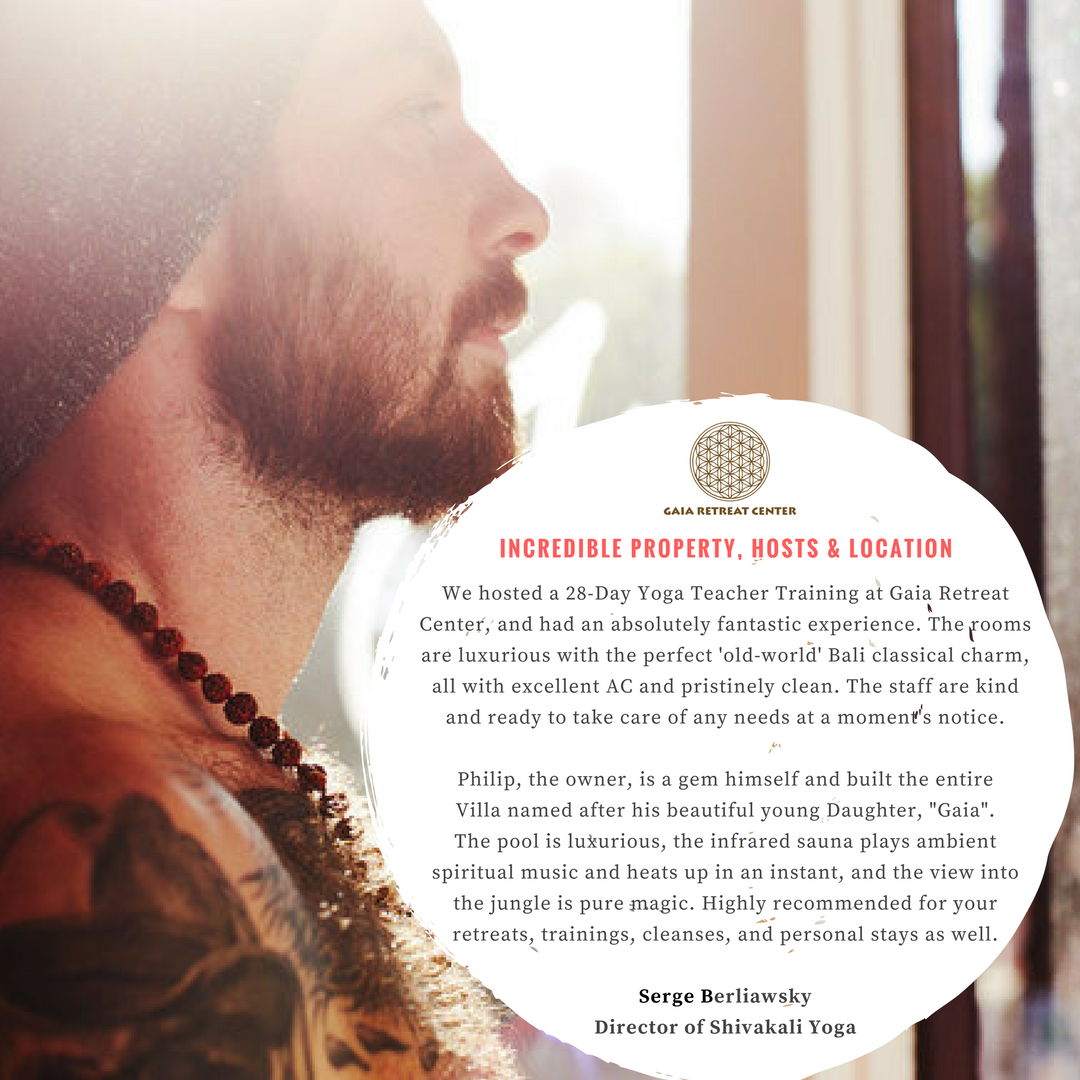 300HR SHIVAKALI ELEMENTAL TANTRA YOGA TEACHER TRAINING BY SERGE BERLIAWSKY
Serge Berliawsky has been practicing the Yogic arts of India & Tibet since his youth, and teaching Yoga for over 16 years. His approach evolves out of a deep transmission from younger years living in Kula (yogic community), engaging in lengthy daily practice before the hours of dawn, and undergoing rigorous study with his teachers. Serge blends his knowledge of traditional Yogic practice & philosophy with 1000's of hours of training in Ashtanga, Yin Yoga, Rudra Yoga, Vinyasa, Kundalini, Ayurveda and Tibetan Buddhism. He held a BA in Religious Studies with an emphasis on South-Asian traditions, a certificate in Yoga Philosophy, a diploma in the study of Yoga & Ayurveda, an E-RYT designation from the Yoga Alliance, he reads/writes Sanskrit, and is currently enrolled in a Ngakpa (Tibetan Yoga) Seminary program. Serge's training at Gaia Retreat Center was based in India's Sacred Traditions, with Alignment-Based Vinyasa Flow practice. Culminating in restorative postures, meditation and pranayama, his practice served first to awaken the body and break-up stuck energy, and then to soften the mind and nurture his participant's inner being through a grounding practice, restorative, yin and classical tantric asanas.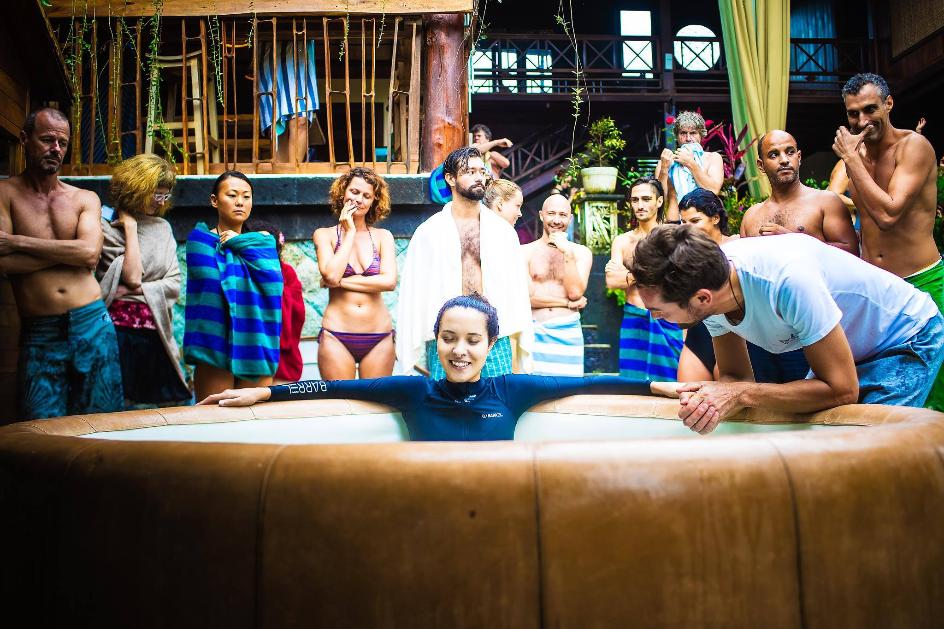 ICEMAN BATH CHALLENGE - THE WIM HOF METHOD BY BART BIERMANS
Similar to Tummo (inner heat) Meditation and Pranayama (yogic breathing). Yet it is something else entirely. While Wim has read a lot of books on yoga and meditation for many years, this technique primordially comes from what he terms 'cold hard nature'. By subjecting himself to the bitter conditions of nature, he learned to withstand the extreme forces of cold, heat and fear. Thanks to Ice Bath Challenge Certified Practitioner Bart Biermans for teaching our participants this empowering technique before plunging into the ice bath at Villa Gaia under his expertise!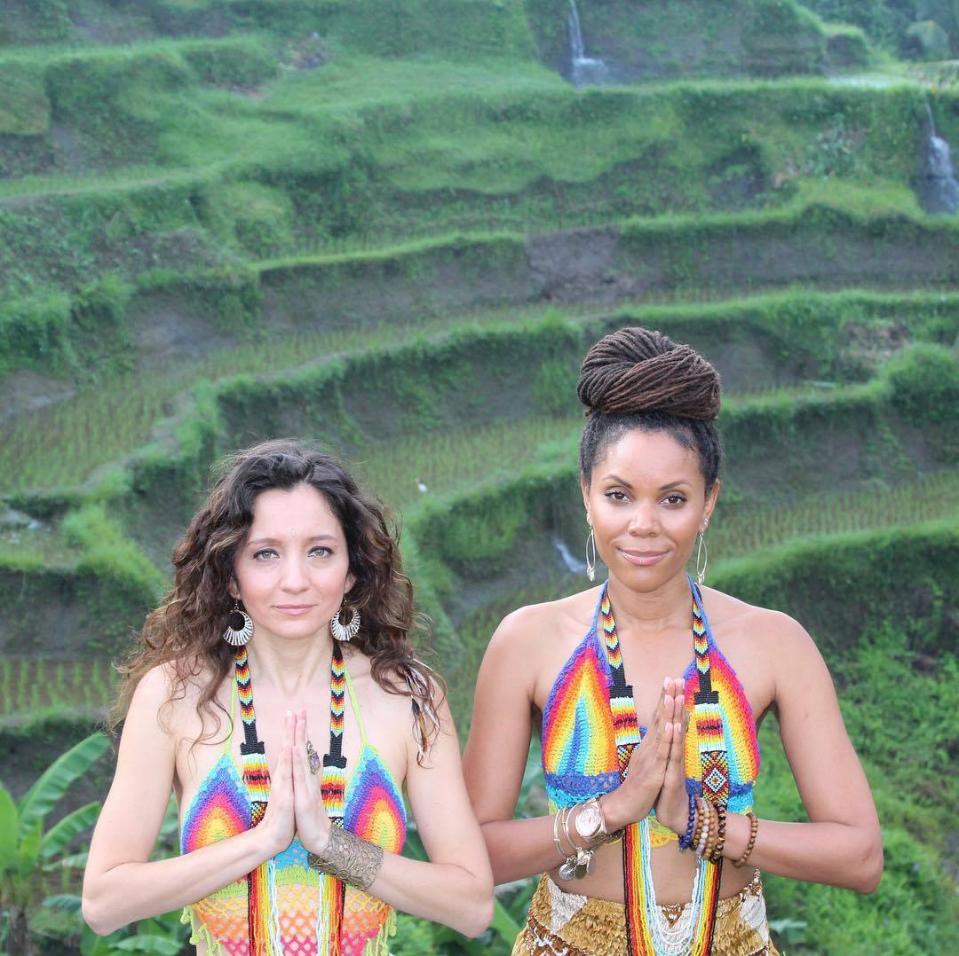 INNER GODDESS HOLISTIC RETREAT BY NAIMA AND VERONICA
Diving into the true Goddesses, connecting to our inner radiance and beauty, removing ancestral blocks and limitations, loving ourselves deeply, planting our dreams and manifesting our sacred desires, tapping into universal abundance, living from a place of truth and authenticity, feeling our magnificence and honoring our path in deep gratefulness. The Inner Goddess Retreat explored all of the beauty that Bali has to offer, with beautiful and deeply healing ceremonies at a natural waterfall, a sacred water temple experience, a one-of-a-kind pyramidical sound healing temple visit, Balinese outdoor market shopping in Ubud and more. All organic farm to table meals and a massage will be all inclusive at Gaia Retreat Center, Ubud, Bali.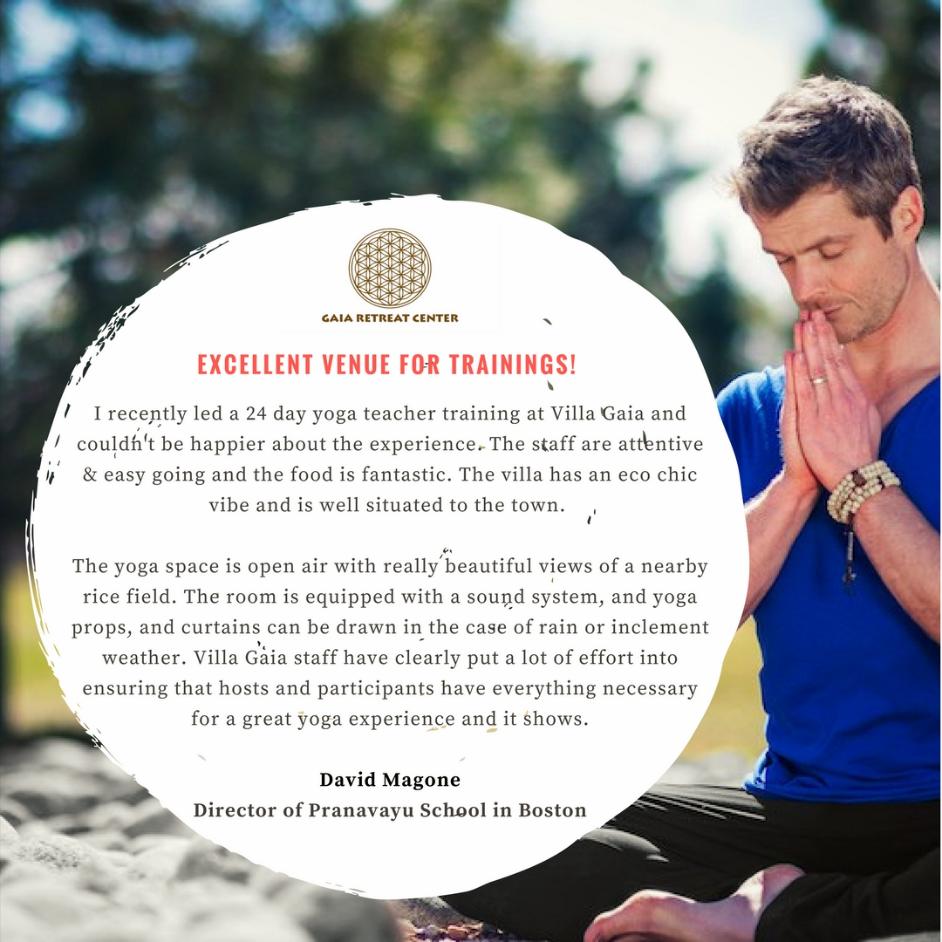 200HR PRANAVAYU VINYASA YOGA TEACHER TRAINING BY DAVID MAGONE
Yoga Alliance registered 200 hour vinyasa yoga teacher training program offered the opportunity for students to deepen their own practice, explore their voice, and gain valuable teaching experience in a beautiful and supportive environment at Gaia Retreat Center led by David Magone, founder of Pranavayu School in Boston, USA - a five star rating on Yoga Alliance, with graduates teaching at some of the world's top tier teaching venues around the globe including Equinox, Exhale Spa, national yoga festivals such as Wanderlust and the world's larges yoga website, Gaiam TV.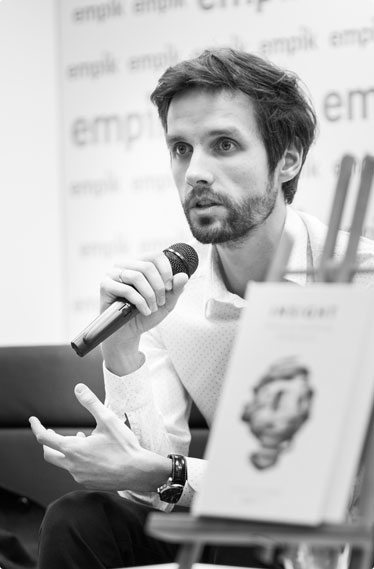 9 DAY INSIGHT WORKSHOP RETREAT BY MICHAL PASTERSKI OF LIFE ARCHITECT
During those 9 days two certified life coaches from Poland, Michael Pasterski and Sandra Lasek, invited participants to practice techniques included in the Insight method; Road to Mental Maturity ~ learning new techniques and different approaches to working on oneself including: Zen Coaching. Gestalt therapy. Mindfulness. Transpersonal coaching. Behavioral-cognitive therapy. Zen meditation - allowing participants to learn a whole set of practical tools for systematic self-work.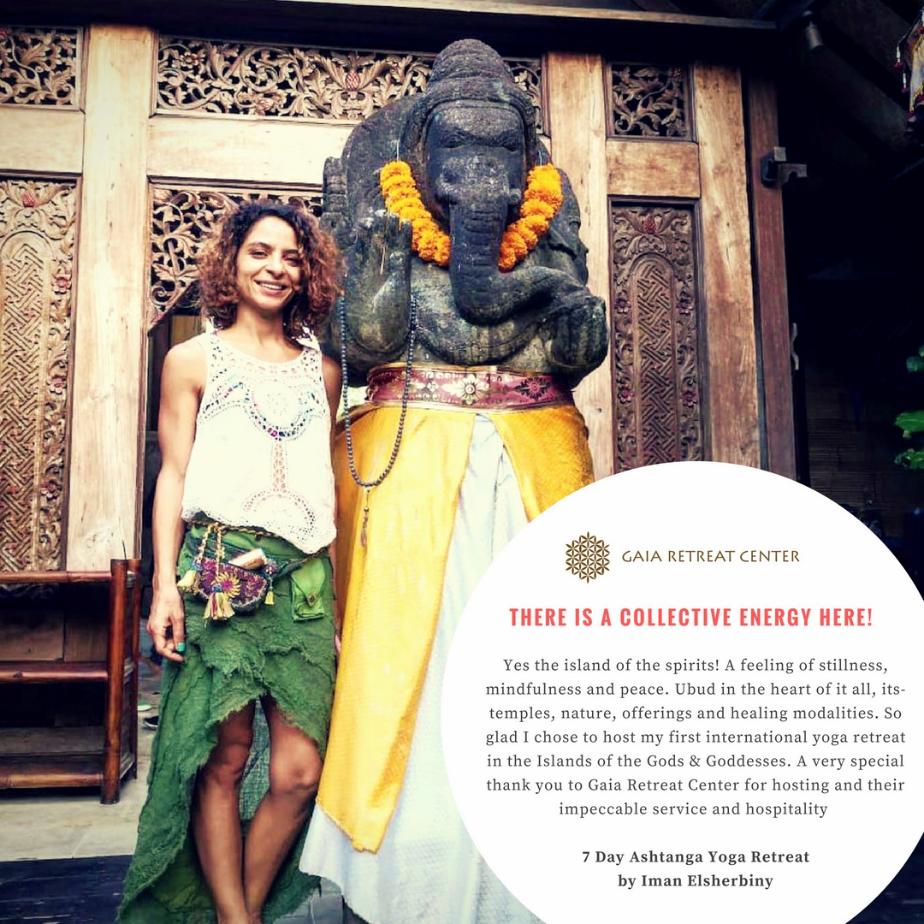 7 DAY ASHTANGA YOGA IMMERSION BY IMAN EL SHERBINY
From India to Egypt to Bali, Ashtanga Yoga Egypt by Iman Elsherbiny a KPJAYI authorised Ashtanga yoga teacher who has developed two Mysore programs in Cairo, invited a lovely group to reset and return to their deeper sense of self while immersing in the traditional 8 limbed path of yoga across 7 days at Gaia Retreat Center, Ubud, Bali. Here are some flashbacks of her retreat weaving in a strong, yet soft and playful practice to help her guests cultivate awareness with their body, a steady and clear mind and a healthy easy filled life.
Copyright Gaia Retreat Center